Photo: Brian A. Pounds / Hearst Connecticut Media
As more and more Connecticut residents test positive for COVID-19, stay informed with all the latest information below.
Beyond local and statewide updates, this story will be updated with major regional, national and global information about coronavirus.
SIGN UP: Get our coronavirus newsletter delivered directly to your inbox
4/8/20
7:55 p.m. - Another 1,000 Connecticut residents have tested positive for COVID-19, bringing the total statewide to 8,781. There have been more than 31,700 tests done in Connecticut at state and private labs. There have been 335 COVID-19-related deaths in the state — a higher total than was initially indicated during the earlier briefing.
6:11 p.m. - WTNH reported about the following statement from Golden Hill Rehab Pavilion in Milford, where concerns about COVID-19 surfaced last week.
"Golden Hill Rehab Pavilion was the first in the state to restrict visitation and to take staff temperatures prior to entering the facility. We value our staff and have been providing them with full personal protection equipment, including new 3mN95 masks daily," the statement shared by WTNH reads.
The news organization reported that the statement goes on to say that the facility has been more proactive than other nursing homes.
6:05 p.m. - Starting Monday, April 13, Metro-North Railroad's Hudson, Harlem and New Haven lines will operate on an hourly schedule on weekdays and weekends. Trains are for essential personnel only.
6:03 p.m. - Connecticut Gov. Ned Lamont is ordering flags in the state be lowered to half-staff in memory of all those who have "lost their lives and been affected by COVID-19."
5:08 p.m. - The boardwalk connector in Milford between the Silver Sands State Park parking lot and the main boardwalk is closed indefinitely because it is too narrow to allow adequate social distancing, the state DEEP announced Wednesday.
The public can still access the beach, the entire boardwalk along the beach and the main parking lot by other trails in the park. Park signage will direct visitors to alternate trails.
4:45 p.m. - Stamford Health's Office of Research authored and received approval for a clinical trial to study the use of convalescent plasma therapy in patients with COVID-19. That study is already underway.
Anyone who has recovered from COVID-19 and can donate plasma is asked to visit stamfordhealth.org/covid-19-update/how-can-you-help-covid-19-patients/.
4:44 p.m. - The two testing sites being added in Connecticut by CVS will offer five-minute testing, Gov. Ned Lamont said.
4:37 p.m. - Barbara Cass, section chief of healthcare quality and safety branch at the Connecticut Department of Public Health, said two nursing homes will be converted to care for COVID-19-positive patients.
Read Full Article
She said these will be COVID-19 recovery centers.
A vacant nursing home has been acquired to convert into a place to care for positive nursing home patients.
Cass said there will be a converted nursing home in Sharon as well as alternate care sites in Torrington and New Canaan.
4:34 p.m. - Connecticut officials are working to release a list of confirmed COVID-19 cases at state nursing homes.
4:27 p.m. - "We are watching that nursing home," said Barbara Cass, section chief of healthcare quality and safety branch at the Connecticut Department of Public Health, of Milford's Golden Hill Rehab Pavilion.
She said the confirmed number of positive cases at the Milford facility, to the best of her memory, remains at 44.
The Milford facility will not be devoted to a COVID-19-only facility.
"We are monitoring PPE supplies very closely," she said.
A message goes out daily, every morning, to facilities statewide about whether any additional supplies are needed. Cass said these daily messages go out to healthcare facilities as well as nursing homes.
4:25 p.m. - "We're working on significant purposes of PPE," Connecticut Gov. Ned Lamont said, adding that he hopes there will be some good news in the few days.
Josh Geballe, Connecticut's chief operating officer, said there will be a "significant influx" of masks to the state in a few days.
4:20 p.m. - Since March 13, there have been 302,000 unemployment claims submitted in Connecticut, said Kurt Westby, commissioner for the Connecticut Department of Labor.
Typically, the state would see that many claims over the span of about two years, he said.
Westby said the state DOL has quadrupled its staff and working overtime. DOL has processed 132,000 claims.
To file for unemployment in Connecticut, Westby urges resident to visit fileCTUI.com. Those who have already filed are asked to check their email daily for updates.
4:18 p.m. - Nursing home patients will be allowed back into the facility only after they test negative for COVID-19 twice, according to Barbara Cass, section chief of healthcare quality and safety branch at the Connecticut Department of Public Health.
Cass said two nursing homes in the state will be converted into COVID-19-only facilities for positive patients.
4:17 p.m. - Unemployment checks are going to be sent out soon in Connecticut after a technical issue, Gov. Ned Lamont said.
4:16 p.m. - There will be a new executive order to suspend evictions for at least 90 days — possibly as long as 120 days — to provide relief to renters in Connecticut, Gov. Ned Lamont said.
4:14 p.m. - The cap on SNAP benefits will be raised in Connecticut, Gov. Ned Lamont said, adding that the recipients will see the change on their debit cards in the coming weeks.
4:10 p.m. - CVS is going to set up two COVID-19 testing sites in Connecticut, Gov. Ned Lamont said.
4:05 p.m. - Connecticut Gov. Ned Lamont says there have been *326 total deaths* in the state linked to COVID-19. He said the state has not received the total number of confirmed positive cases for the last 24 hours yet, citing a delay with some out-of-state testing labs. There have been 1,418 people hospitalized.
*Data released by the state later Wednesday night indicated that the number shared by the govenor during his briefing was incorrect — or had increased. The new total, provided by the state around 8 p.m. Wednesday is 335 COVID-19-associated deaths.*
4 p.m. - Connecticut Gov. Ned Lamont and some other state officials are prepared to give a COVID-19 briefing update at any minute. Click here to watch it live.
3:56 p.m. - The Connecticut Chapter of the NFL Players Alumni purchased surgical masks for first responders in southwestern Connecticut.
Westport resident and former NFL player Skip Lane was among those who presented a case of surgical masks to Westport First Selectman Jim Marpe and Police Chief Foti Koskinas on Wednesday at the pick-up location at the Darien Town Hall.
3:25 p.m. - Cafe Bonita — at 83 Wall St. and 161 Main St., both in Norwalk — will offer a free lunch to those in need on Friday for pickup. People can RSVP on the restaurant's Facebook page, by email at cbrestaurante2@gmail.com or by phone at 203-252-0047.
3:19 p.m. - The Broadway League announced its theaters will remain closed for at least two more months as New York City continues to combat the COVID-19 pandemic. Broadway will remain closed until at least June 7.
1:54 p.m. - A panel convened by the National Academies of Sciences reported to the White House on Tuesday that the novel coronavirus is unlikely to wane with the arrival of summer, though there are many uncertainties remaining. These findings are in line with previous studies offering hypotheses regarding how the virus may behave in warmer and more humid conditions, and is an attempt to help distill the evidence for and against reduced virus transmissibility during warm weather. Read more here.
1:40 p.m. - Positive coronavirus cases in Monroe nearly doubled Monday into Tuesday. The town now has 19 positive cases, according to state health department data released April 8, one day after Town Council voted to grant the Board of Finance power to adopt the town's 2020-21 fiscal year budget.
1:26 p.m. - Today at 4 p.m., Gov. Ned Lamont will hold a news briefing to provide updates on the State of Connecticut's coronavirus response efforts. The public can watch the news briefing in its entirety here.
1:15 p.m. - Shelton experienced its deadliest day of the coronavirus pandemic so far with 10 deaths Monday into Tuesday, bringing the number of local deaths to 27, according health district data.
In Shelton, positive cases rose nearly 20 in 24 hours to 147, by far the most in the Valley. Overall, there are 313 positive cases in the Valley, with 52 in Naugatuck, 41 in Ansonia, 33 in Seymour, 26 in Derby and 14 in Beacon Falls. The only other COVID-19-related death in the Valley was reported in Seymour. Read more here.
12:48 p.m. New York Gov. Andrew Cuomo had some good news and "terrible" news on Wednesday.
"There is no doubt that we are now bending the curve, and there is no doubt that we can't stop doing what we are doing" Cuomo said, and if the hospitalization rate continues decreasing, the state's hospital system "should stabilize over these next couple weeks."
He said New York had 779 deaths since Tuesday- the highest number in one day.
He ordered all flags at half-staff in memory of the people we have lost.
"We are no way out of the woods," he said.
12:42 p.m. - In an effort to limit the spread of the coronavirus, Guilford locked the doors to both of its town hall buildings Wednesday, requiring members of the public to call if they need municipal services, according to a town release. "All departments are still operating and residents are encouraged to call and schedule appoints to conduct business with the various departments," the release says.
12:22 p.m.
12:09 p.m.
11:55 a.m. - Researchers are isolating antibodies in people who've recovered from the coronavirus to see if they can help the hundreds of hospital patients struggling with the sometimes-deadly respiratory infection.
The effort is underway at Stamford Health - which is conducting Connecticut's first clinical trial - and at Nuvance Health in Danbury and Norwalk, which is collecting the plasma of recovered COVID-19 patients for a similar study later this month. Read more here.
11:40 a.m. - Maintaining blood supplies has become an even greater urgent necessity during the coronavirus epidemic. Blood drives are being planned in the Greenwich area this spring.
11:20 a.m. - The number of confirmed coronavirus cases in town has reached 146, according to state officials on Monday, an increase of 11 from the previous day. Neighboring Weston has 33 cases, up from the previously reported 32 cases. One resident has died in Weston due to COVID-19, the disease caused by the novel coronavirus. One Westport resident has also died from COVID-19. Read more here.
11:16 a.m.- Watch New York Gov. Andrew Cuomo's coronavirus update here.
11:15 a.m - Since the start of the COVID-19 crisis, medical and health questions have flooded in from readers.
This week, we went back to one of the experts who previously helped us: Dr. Dennis Brown, who heads Quinnipiac University's physician assistant program. Brown specializes in emergency management and community health. Read more here.
10:48 a.m.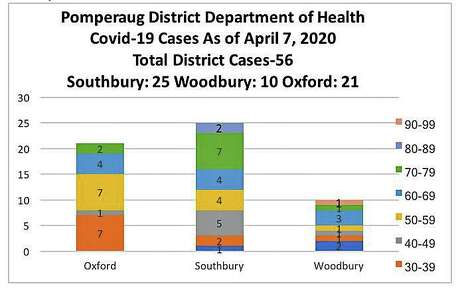 10:35 a.m.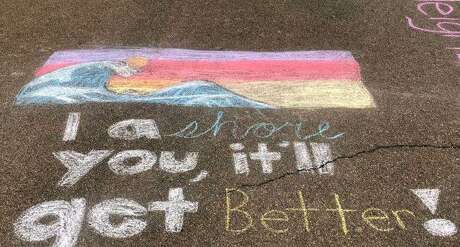 While Connecticut residents are quarantining inside their homes during the coronavirus pandemic, words of encouragement have been popping up on sidewalks and street corners. Click through the slideshow here to see how some Connecticut residents are bringing cheer to their neighborhoods.
10:20 a.m.
10:10 a.m. - Gov. Ned Lamont's latest executive order will make it easier for unlicensed medical professionals to join in the effort to slow the spread of the coronavirus. The order issued Tuesday night waives both licensure and fee requirements for a variety of professions, from x-ray technicians to nurse practitioners, registered nurses and physical therapists. Medical school graduates and medical profession graduates are also included, Lamont's office said. Read more here.
9:49 a.m. - MTA Chairman and CEO Patrick J. Foye said ridership on Metro-North was down 95 percent on Monday since the coronavirus pandemic struck.. Appearing on WCBS this morning, Foye said "ordinarily, I would not be rooting for ridership to be down, but obviously that's a good thing because people are heeding the governor's directive. However, that is going to have a significant financial toll on the MTA."
He also said ridership on the subways on Monday was down 92 percent; Long Island Rail Road, 97 percent; and people taking bridges and tunnels down 63 percent.
"The first round of CARES funding provided nearly $4 billion in funding for the MTA to make up that ridership decline. We're going to need additional funding from the federal government because of the continued ridership decline and because of the effect, which is too early to measure, on subsidies that we receive from, those that have been approved by the state government."
9:30 a.m. - The state Department of Transportation will host a webinar for residents who are now teleworking as a result of the COVID-19 pandemic. The free webinar, titled "Best Teleworking Practices - The Road to Success for Employees," will take place on from noon to 1 p.m. today. This is one in a series of telework webinars, most of which are focused on employers. The webinar will focus on best practices that will allow teleworkers to succeed in their new work arrangement. Topics will include setting up a productive home work environment, goal-setting, how to provide feedback and updates to managers, how to establish work/life balance, how to deal with distractions, and more.
Connecticut residents who are interested in this webinar are required to register online at www.ctrides.com The webinar will also be recorded and available for viewing at a later date on www.ctrides.com
9:14 a.m. - Pregnancy has always been a fraught time for women, said Jean Tornatore, medical director of labor and delivery at Bridgeport Hospital. During the COVID-19 pandemic, it's become even more so. "There's a lot of anticipation that goes into this event," Tornatore said. "Having (this crisis) injected into their plans for (childbirth) is extremely anxiety-provoking." Read more here.
8:58 a.m.
8:35 a.m. - The Stratford Health Department and State Department of Public Health have confirmed 124 COVID-19 cases in Stratford as of this today, and unfortunately four COVID-19 related deaths in town to date.
8:22 a.m. - A fifth Fairfield resident has died with coronavirus and there are now 94 confirmed cases in town, according to First Selectwoman Brenda Kupchick. In an update sent to residents Tuesday night, Kupchick said the man who died was 72 years old. She said the number of cases in town had increased by 25 in the past 48 hours.
8:04 a.m. - Ranger Russ Miller, director of the Meigs Point Nature Center at Hammonasset State Park, takes us on a tour of the salt marsh and osprey nests. He also tells what is happening at the park because of the coronavirus pandemic. You can find a schedule of his Facebook Live programs here.
7:42 a.m. - When the history of the coronavirus pandemic is written, the vanishing of the toilet paper might rank as just a footnote in an otherwise dark and frightening account. But it might be a very long, complex and even wise footnote, because toilet paper -- or rather, the lack of it - turns out to reveal a great deal about who we are and how we behave in a crisis. Read more here.
7:21 a.m. - Effective Friday, the Wilton Police Department will enforce the closing of playing fields and recreation facilities by issuing a trespassing ticket with a fine of $92 to any individual found using the fields and recreational facilities. They include, but are not limited to WHS and Middlebrook tennis courts, Comstock and School basketball courts, Allen's Meadows playing fields , Lilly Turf Field, WHS North Field, Guy Whitten Field, WHS Stadium Track and Turf Field, Middlebrook fields, Hurlbutt Street fields, WHS and other town owned baseball and softball fields, Merwin Meadows playground, Comstock playground and school playgrounds Specifically excluded from the order are residents tending their plot at the Community Gardens at Allen's Meadows and residents walking, jogging or biking through Allen's Meadows and Merwin Meadows, which are connectors for trails. Wilton has 86 confirmed cases of the coronavirus.
7:03 a.m. - Members of the Connecticut National Guard joined the lieutenant governor Monday afternoon at Middlesex Hospital to tour a newly erected 25-bed facility to service coronavirus patients with non-acute conditions .The number of positive cases in Middletown reached 52, Mayor Ben Florsheim tweeted Monday. There have been no coronavirus-related deaths in the city, he added.
6:45 a.m.
6:31 a.m. - Since seeing its first coronavirus patient on March 14, Greenwich Hospital has become "kind of ground zero for the state of Connecticut," Yale New Haven Health CEO Marna Borgstrom said Tuesday. There are currently 107 coronavirus patients in the hospital, and 60 hospital employees have tested positive for the virus, said Norman Roth, president and CEO of Greenwich Hospital, who took part in a digital press conference with Borgstrom and Yale New Haven Health's Chief Clinical Officer Tom Balcezak.
6:15 a.m. - From Ridgefield First Selectman Rudy Marconi: "I want to thank you for the outpouring of get well wishes I have received as I recover from COVID-19. I assure you I am doing well and feel like I've turned the corner. So, thank you again. Health Director Ed Briggs confirms that we have 110 COVID-19 cases reported with the expectation that these numbers will continue to climb. Sadly, our death toll has climbed to 13 and this is a reminder of how diligent we must remain in keeping our most vulnerable population safe. We ask that all Ridgefielders follow CDC guidelines and wear face coverings in public settings."
5:59 a.m. - The cause of a 91-year-old man's death — changed on Tuesday to being associated with the coronavirus — is at the center of a state investigation into a Milford nursing home facility where nearly half of its residents have tested positive for COVID-19. The Chief State's Medical Examiner on Tuesday changed the death certificate of Jean Louis Auclair, a resident of Golden Hill Rehab Pavilion who died March 30. His death was originally attributed to respiratory failure.
5:42 a.m. - Connecticut had its deadliest day of the coronavirus pandemic with 71 fatalities Monday into Tuesday, bringing the total to 277.
More than 1,300 have been hospitalized, including another net 87 increase since Monday, Gov. Ned Lamont announced in his daily afternoon update in the State Capitol. An additional 875 people have been diagnosed with the infection, for a total of 7,781, according to the state Department of Health.
4/7/20
9:05 p.m. - The Connecticut Judicial Branch announced that all jury service is suspended until further notice. Jurors scheduled to appear at the Fairfield Judicial District Courthouse at 1061 Main St. in Bridgeport on Wednesday, April 8 should not report there. These jurors may not have received timely notice of the cancellation.
8:53 p.m. - Big Y announced it will close all its stores on Sunday, April 12 and Monday, April 13. Big Y Express Gas & Convenience locations will be closed that Sunday only.
During the break, all stores will continue to be restocked and cleaned in preparation for a reopening on Tuesday, April 14. Store hours will remain the same.
6:40 p.m. - Bridgeport Mayor Joe Ganim has issued a recommended — "voluntary" — curfew of 8 p.m. for the city. He said the curfew was an effort to double-down and reinforce Connecticut Gov. Ned Lamont's Stay Safe, Stay Home order.
"This is a recommended curfew to save lives," Ganim said.
6:35 p.m. - The Shop Rite in Milford announced Tuesday that store employees tested positive for COVID-19.
The store is following CDC recommendations to reduce the spread of the virus, including ensuring the diagnosed associates are no longer in the workplace.
The store said it has asked employees who might have been in close contact with the diagnosed workers to self-quarantine for 14 days.
Shop Rite will also implement deep cleaning procedures to sanitize food contact surfaces and high-tough areas.
5:10 p.m. - Danbury Mayor Mark Boughton said there are no plans to close the Tarrywile Park and Mansion property. He says Bear Mountain also remains open. The city's leaf pickup is still happening and is underway right now.
"Maybe June," Boughton says on when retail stores might be able to reopen.
4:50 p.m. - There will be no student meals served in Bridgeport on Good Friday, April 10. Barnum School will be closed until further notice.
4:38 p.m. - Connecticut Gov. Ned Lamont said he respects Bridgeport Mayor Joe Ganim's choice to install a voluntary 8 p.m. curfew for his residents, adding that what works for Bridgeport might not work everywhere across the state.
4:35 p.m. - Connecticut Gov. Ned Lamont said voting by mail makes "a lot of sense to me" but that no definitive decision has been made.
4:34 p.m. - When it's finally time for people to head back to work in Connecticut, Gov. Ned Lamont said, the least vulnerable people should head back to work first, and that those who are working in situations will more vulnerable people be tested prior to returning to work.
4:25 p.m. - Connecticut Gov. Ned Lamont says testing has been ramping up across the state as time goes on.
4 p.m. - Connecticut Gov. Ned Lamont said since Monday, an additional 875 positive cases of COVID-19 have been confirmed in Connecticut, bringing the total to 7,781. There are 1,308 patients hospitalized. There have been 277 fatalities. More than 29,036 people have been tested in the state.
3:58 p.m. - Local police escorted ventilators to Danbury Hospital Tuesday.
3:35 p.m. - Trumbull officials have announced the intention to impose fines for various violations starting Thursday, April 9. Police will start to issue trespassing fines to those who "continue to ignore warnings and other posted restrictions in town parks and all school property and playgrounds," a news release said. It will be an infraction, which carries a fine that is paid to the state.
1:55 p.m. - A "database error" caused a coronavirus patient to be incorrectly classified this week as a newborn child, First Selectman Chris Kervick said Tuesday. The Windsor Locks first selectman had announced Sunday that among the town's new confirmed COVID-19 cases was a patient who he described as a "newborn child."
1:44 p.m. - Today at 4 p.m., Gov. Ned Lamont will hold a news briefing to provide updates on the State of Connecticut's coronavirus response efforts. You can watch here.
1:34 p.m.

The Connecticut Department of Mental Health and Addiction Services today released aggregate data of the reported number of laboratory confirmed cases of COVID-19 identified in patients within its state-operated inpatient facilities and staff employed throughout the DMHAS system. Read what the department is doing to protect clients and staff.
1:16 p.m. - A crematory chamber overtaxed by heavy demand due to the coronavirus pandemic appears to be the cause of a fire that broke out at Cognetta's Funeral Home in Stamford early Monday evening. Read more here.
1:01 p.m. - Today New Haven Mayor Justin Elicker and New Haven Health Director Maritza Bond will be hosting virtual press availability regarding all updates surrounding the City's response to the COVID-19 public health emergency. Today's virtual press briefing will be at 3 p.m. The COVID-19 pandemic is evolving every day, and the City of New Haven wants to provide accurate and current information regarding the spread of the virus. All briefings are uploaded to the Mayor's YouTube Page at bit.ly/MayorYouTube
12:42 a.m.
Each day we remain in continued contact with our hospitals and medical providers to ensure they have access to the resources they need to respond to this virus. pic.twitter.com/RR4eYVCO0e

— Governor Ned Lamont (@GovNedLamont) April 7, 2020
12:20 p.m. - New York state recorded 731 new coronavirus deaths, its biggest one-day jump yet, for a statewide toll of nearly 5,500, Gov. Andrew Cuomo said.
"Behind every one of those numbers is an individual. There's a family, there's a mother, there's a father, there's a sister, there's a brother. So a lot of pain again today for many New Yorkers," he said.
But in an encouraging sign, Cuomo reported that hospital admissions and the number of those receiving breathing tubes are dropping, indicating that measures taken to force people to keep their distance from one another are succeeding.
11:56 a.m. - Steve Adkins, of Clinton, talks about his first five days at Yale New Haven Hospital as his "darkest moments" fighting COVID-19, and what was just the beginning of his 20-day battle. "You're in an isolation room," he said. "You're in a single and all your can do is sit there and think of how bad you feel," he said. Read more.
11:38 a.m. - "Despite the fact that people think we're a Gold Coast, we have tremendous numbers of people who are under a huge amount of economic strain," U.S. Rep. Jim Himes said. "Everybody who worked in retail and restaurants and any number of other jobs has been let go down here. It's terrifying for people." Read what Himes is doing to help.
11:18 a.m. -The Bushnell in Hartford has furloughed 32 employees, but it does not see them out of work for six months. In a letter to the state Labor Department, it said the furlough are because of the coronavirus and governor's executive orders. "These furloughs are expected to be temporary. Although The Bushnell Center for the Performing Arts will be temporarily closed, The Bushnell will continue operating."
10:51 a.m. - ShopRite in Shelton has stepped up sanitizing procedures after one of its associates tested positive for the coronavirus. On its Facebook page, ShopRite Shelton management stated that "the impact the COVID-19 pandemic has had on the community of Shelton has been felt by us all. The same holds true at ShopRite, where a member of our work family — the associates who provide essential services every day — has reported a confirmed case of COVID-19."
10:22 a.m. - For weeks, Gov. Ned Lamont has been saying that it's unlikely public schools will reopen this spring. Now, his administration, led by Education Commissioner Miguel A. Cardona, is negotiating with school superintendents from around the state to decide on a strategy to keep pupils at home and away from the buildings where the coronavirus can spread. Read more here.
10:08 a.m.
9:55 a.m. - In these times of solitude, many people are turning to their pets for comfort — posting shots of their furry co-workers on social media; talking about how snuggles from their non-human companions are getting them through the crisis, and generally looking to their domestic animals as a lifeline to get through the pandemic.
After all, most research has shown that there is little risk of passing the respiratory illness COVID-19 to animals. But, the risk isn't zero — a fact that was brought into sharp focus Sunday when it was announced that a tiger at the Bronx Zoo in New York had tested positive for COVID-19. Read more here.
9:33 a.m. - With uncertainty mounting regarding the upcoming MLB season, one Yankees pitcher is making the most of his quarantine in his backyard.
Gerrit Cole, the 29-year-old pitcher who signed with the New York Yankees last December for a record-setting $324 million, told the New York Post that he has been practicing his pitching with fellow Yankees pitcher Adam Ottavino at his Greenwich home. He added that he has also had Yankees manager Aaron Boone and bullpen catch Radley Haddad over to help him out with his pitching.
9:15 a.m.
8:48 a.m.
In this week's episode of Exit 43 we speak with a pair of Yale epidemiologists about maintaining the balance between the data and people behind that data, and a rabbi who has comforted people at the graveside.
8:32 a.m. - Dozens of patients at a rehabilitation center and nursing home in Milford have tested positive for COVID-19, according to public health officials, and at least one family said they only learned their loved one had contracted the disease after he died. As of Friday, at least 44 people at Golden Hill Rehab Pavilion off of Bridgeport Avenue have tested positive for COVID-19, Av Harris, a spokesman for the state Department of Public Health, confirmed. Read more here.
8:12 a.m. - Bridgeport police and health department officials will begin enforcing the 8 p.m. shutdown of bodegas, variety stores and other still-open businesses on Wednesday.
"I call it ramp up and clamp down," Mayor Joe Ganim said Monday during his daily briefing. "There's going to be increased police presence and patrols using lights and public address systems ... We will disrupt people gathering-in, we will disrupt the overflow of people coming in (to the parks) from out of town." Read more here.
7:47 a.m. - Two people were arrested in Norwalk last weekend for removing barricades to gain entry into a closed park as the city ramps up enforcement efforts of social distancing amid the coronavirus crisis.
7:31 a.m. - Due to safety precautions, Southbury Dog Park is closed until further notice. Although most of the town-operated parks prohibit dogs, there are some other wonderful parks in Southbury that allow dogs on leashes! Go to https://www.southbury-ct.org/parks to see which parks allow dogs.
7:07 a.m.
6:52 a.m.
6:32 a.m. - Stamford to date has, by far, the largest number people in the state testing positive for COVID-19, and the intensive-care unit at Stamford Hospital is approaching capacity. One or two coronavirus patients are dying each day at the hospital, an administrator said. As of Monday, there have been 15 deaths.
6:10 a.m. - Efforts to keep state court staff safe during the coronavirus pandemic have forced the state's Judicial Branch to leap forward into technology. While the state's court system had previously plodded forward on the use of video conferencing, on Monday it launched a pilot program to use the technology in Bridgeport, New Haven and Waterbury courts to do all criminal arraignments. Read more here.
5:45 a.m. - Seventeen new deaths were reported Monday in the coronavirus pandemic, bringing the state's total dead to 206. But Gov. Ned Lamont sees at least a slight success in slowing the spread of COVID-19. "Our social distancing may be having an impact," Lamont said during a mid-afternoon briefing in a near-empty State Capitol meeting room, during his first call-in news conference with reporters kept away.
In addition, 1,231 newly diagnosed COVID-19 cases raises the total infected to 6,906, and 1,221 are now hospitalized, an increase of 79 from Sunday.